Children's tipis
"A hideout for the smallest warriors"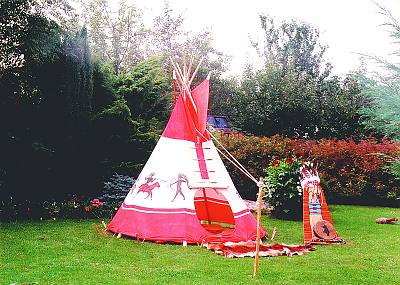 What child hasn't wished for a real little Indian tent to play in? The FAM WEST Children's tipi is an exact copy of a Sioux tipi. Completely functional with smoke vents and 9 poles, the little (2m) tepee can be set up in a few minutes. The Children's tent is made of a lightly waterproofed cotton tent cloth and is delivered complete with all the necessary poles, pegs and fastening clasps.
You can choose from four different designs from our pre-painted tipi, or an unpainted tent which the children can paint themselves later.
Specification:
Pole length: 250 cm
Weight: 17 kg
CHILDREN'S TIPI scope of delivery:
1 tipi tent with sewn-on smoke vents
9 tipi poles (250 cm)
1 cotton twine (20m)
hemp twine
repair cloth
1 set of instructions
1 cotton transport sack
Attention during construction: A properly set up tipi has the shape of an oval cone which leans back.
Photo gallery